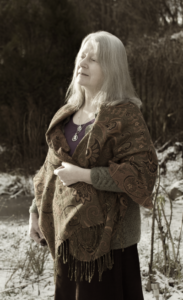 Dr Jenny Blain, originally from Scotland, has lived and worked as a lecturer in Canada and the UK. In addition to her book Nine Worlds of Seid-Magic (Routledge 2002) she has been editor with Graham Harvey and Doug Ezzy of Researching Paganisms (Altamira 2004), author with R J Wallis of Sacred Sites, Contested Rites/Rights (Sussex Academic Press, 2007) and numerous academic articles and chapters on Paganisms, Seidr, Heathenry, landscapes, Ancestors and wights, and lately on Scottish identities.
Having recently taken retirement she has returned to Scotland, where after revising her earlier small book Wights and Ancestors (Prydein Press 2016) she is planning a larger volume for Heathen practitioners provisionally titled The Wyrd of the North, in addition to her work as a genealogist helping others uncover their Scottish ancestries.
She has identified as 'Heathen' for several decades and has been involved with the development and practice of Seidr since the 1990s. She writes an occasional blog at http://landscapeself.blogspot.co.uk which includes thoughts on place, politics, poetry and people.